By Lucy Marcus
When I first attended the World Economic Forum's annual gathering in Davos, Switzerland, almost 15 years ago, there was a lot to learn: How to get there (three train changes are needed to reach Davos from Zurich), what to pack (snow boots are a must!), how to sign up to attend the most interesting sessions and dinners and how to get around town.
Then there were the unwritten rules of conversation — namely, what happened in Davos was, for the most part, meant to stay at Davos. Everything was private, off-the-record and not to go beyond the confines of the event, even if something was said in public. Even those whose job it was to write about Davos, namely journalists, were carefully managed and given artfully constructed bits of sanctioned information.
Social media didn't exist back then — Facebook was founded in 2004 and Twitter was founded in 2006. Blogging was just in its infancy and people were very wary of it, wondering if the things they said would be made public without their OK. I remember people who blogged caused a real stir, and not in a good way.
Fast forward to today, when there has been a marked shift in attitude towards sharing. The WEF has fully embraced social media in all its forms. Twitter, Facebook, Instagram, LinkedIn, YouTube, Weibo… you name it and the WEF has a presence. Not only that, they are encouraging participants to embrace social media as well, even highlighting the most active and influential tweeters amongst participants. This would have been shocking to the Davos attendees of almost 15 years ago.
The WEF has now even opened up a number of its sessions to being live webcast in high definition.
Some of the talks and panels that will be live streamed include topics such as rewriting human genes, the new banking context, and China's impact as a global investor. Also live streamed will be one-on-one interviews with people including General Motors CEO Mary Barra, Alibaba CEO Jack Ma and musician will.i.am.
Some of these webcasts will have their own interactive question-and–answer sessions where panellists and speakers will take questions from viewers around the world. Social media also allows both those attending and those watching beyond the confines of Davos to become more involved with the discussions and to spin off into deeper, broader conversations.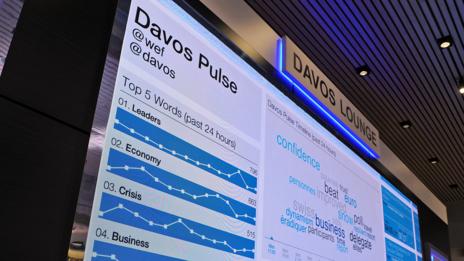 These technological enhancements have been positive.  Now that social media has matured, participants have a better understanding about what is appropriate to share and what isn't. There are still plenty of off-the-record discussions — an important part of Davos — and attendees still get the privacy they need to have frank, open and valuable discussions and negotiations. But transparency, shared knowledge and openness around a gathering of some of the most influential people in politics, business and civil society can only, I think, make things better.
So how do you follow the WEF's activities on social media, watch the open sessions over the internet and join the conversation?
Twitter
The official hashtag for this year's meeting is #wef15 and #wef.
The World Economic Forum will be tweeting via their feed @wef  and live tweeting the meeting sessions via @davos.
There will also be highlights and live tweeting in Spanish @wef_es, Japanese @wef_jp and Chinese via Weibo.